FREQUENTLY ASKED QUESTIONS
ORDERING
SHIPPING & DELIVERY
RETURNS
PRODUCT INFORMATION
CARE GUIDES & WARRANTIES
RETAILING MADE GOODS PRODUCTS
PRESS FEATURES
---
ORDERING
HOW DO I BECOME A CUSTOMER?
HOW DO I PLACE AN ORDER?
If you already have a Made Goods account, you can SETUP YOUR LOGIN to start shopping. You will need your Made Goods account information to complete the setup.

If you do not have a Made Goods account, you can simply REGISTER. Please allow us up to 48 hours to process your application. Once approved, you will receive your account and login information in an email from your Made Goods account manager.

To expedite an application, please call us at 626.333.1177 or email info@madegoods.com for immediate service!
WHAT IS THE MINIMUM ORDER?
Retail Locations: We have a $6,500 opening order minimum for retail locations (stores/showrooms—physical space required) and a $10,000 annual invoice amount within the calendar year to maintain status. In territories where there is market saturation, the opening and annual minimum may be higher. Orders under $500 are subject to shipping surcharges.
---
SHIPPING & DELIVERY
HOW DOES SHIPPING WORK?
We ship either LTL or common carrier depending upon the size and composition of your order. Shipping rates are 12% for Zone 1, 14% for Zone 2, and 16% for Zone 3 (see map below). Orders shipping in the US under $500 are subject to a shipping surcharge.

Canada
Shipping rates are 16% for Zone 4 and 18% for Zone 5 (see map below). Orders shipping to Canada under $500 are subject to a shipping surcharge.

Intercontinental US & International
A shipping quote will be provided with your official sales order for your approval within 24-48 hours based upon your order.
White Glove Delivery
If your order contains an item that requires White Glove delivery and your shipping address is a residential address, a shipping quote will be provided with your official sales order for your approval within 24-48 hours.

Note
Shipping rates are subject to change and will be confirmed when your order is placed. Your order may be delivered in several shipments; however, this will not affect your shipping costs. We can ship to residential addresses; however, surcharges will apply.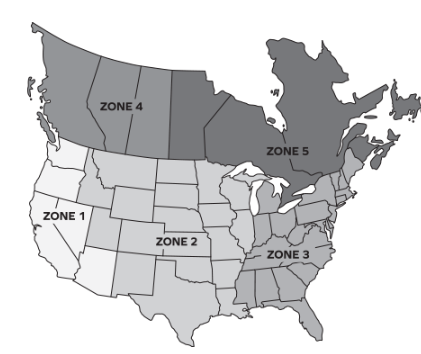 WHAT SHOULD I DO IF MY PRODUCT ARRIVES DAMAGED OR IS LOST IN TRANSIT?
Upon Delivery
Signature of receipt by you, your agent or employee constitutes full acceptance of all packages stated on the bill of lading or electronic clipboard in undamaged condition. You are responsible for all shipping and return charges for any shipment that is refused as well as forfeiture of your deposit. We shall not be liable for delay in shipment for any cause, nor shall any delay entitle you to cancel any order after it has shipped or refuse delivery. Delivery may occur in multiple lots depending upon availability of the products constituting an order.

Carrier Damages
Claims for damage to products that do not arise from defects in material or workmanship are the responsibility of the carrier. If the shipment arrives with visible exterior damage (crushed box, broken crate, moisture, etc.) note the damage in writing on the carrier's delivery receipt before you sign for the shipment and release the delivery driver. A claim for shipping damages will not be accepted by Made Goods unless the damages are noted on the carrier's delivery receipt.
Orders/Items That Are Lost in Transit
If you discover that an order or item(s) is lost in transit, you will have 30 calendar days from the date of invoice to report the loss. Claims submitted after 30 calendar days are subject to denial.

Limited Warranty
We ship items that conform to the samples we display at wholesale trade shows and on our website; however, variations are a normal part of the production process. Our products will be free from defects in material and workmanship that materially impair the use of the product. This is our only limited warranty or liability. Our limited warranty does not cover: (a) normal wear and tear, (b) product variations, (c) defects or damage occurring due to, or following, product modification (d) damage caused by shipping/transit and (e) damage caused by misuse, abuse, or negligent treatment of merchandise or (f) pieces moved from their original delivery location. Our limited warranty is void if repairs or modifications have been attempted by any person without our consent. Our limited warranty is limited to the original wholesale purchaser. In no event shall we be liable for incidental or consequential damages in connection with the purchase or use of any merchandise. This limited warranty provides your exclusive remedy for any defective product.
THE FOREGOING LIMITED WARRANTY IS MADE EXPRESSLY IN LIEU OF ALL OTHER WARRANTIES, EXPRESS, IMPLIED OR OTHERWISE, INCLUDING WARRANTIES OF MERCHANTABILITY OR FITNESS FOR A PARTICULAR PURPOSE OR ANY AFFIRMATION OF ANY FACT OR REPRESENTATION WHICH EXTENDS BEYOND THE LIMITED WARRANTY SET FORTH ABOVE AND ANY SUCH WARRANTIES ARE HEREBY EXPRESSLY DISCLAIMED.
If you discover your item is damaged
Within five (5) business days of receipt, you must (a) unpack and thoroughly inspect the shipment for damaged items, (b) SAVE ALL PACKAGING UNTIL CLAIM IS RESOLVED, and (c) email info@madegoods.com to report damaged items and to receive a return authorization number (RA#). We will, at our discretion, repair or replace the item. If the damaged item(s) are to be replaced, the items must be returned prior to shipment of a replacement. For all returned products, only use the shipping documents provided by Made Goods. Shipping reimbursement will not be made for use of non-authorized shipments. All returns must be properly packaged with original packaging (unless otherwise instructed), clearly labeled with correct RA#, and scheduled for pickup within five (5) business days of receipt of shipping documents.
All items should be opened and inspected within (5) days of receipt. We will, at our discretion, repair or replace the item. No returns will be accepted without prior authorization from Made Goods, and without all required documentation. For assistance with damages or returns, please reach out to our customer service team. For returns of damaged items by Call Tag, please only use the shipping documents provided by Made Goods.

Return Shipping Costs
All returns require prior approval from Made Goods in the form of a Return Merchandise Authorization (RMA). Any associated freight costs for client-elected returns are non-refundable. All returns must be properly packaged with original packaging (unless otherwise instructed), clearly labeled with correct RMA# and scheduled for pickup within five (5) business days of receipt of shipping documents.
---
RETURNS
WHAT IS YOUR RETURN POLICY?
It is within our sole discretion as to whether to accept returns of merchandise. Items returned without our prior authorization will be refused. A 25% restocking fee will be applied to all approved returns that are not defective.

Made Goods allows for client-elected returns within 30 days of receipt should you wish to return an item for any reason aside from damage or defect. Returned items must be in their original condition and packaging. Customers are responsible for shipping charges incurred when returning a product. Additionally we strongly suggest insuring all return shipments as credit for authorized returns will not be issued if product arrives damaged due to poor packaging. All credits for client-elected returns will be credit-on-account. Please note that all returns, regardless of reason, must be pre-approved by Made Goods. To begin the Return Merchandise Authorization (RMA) process, please contact our customer service department.
At Made Goods we strive to keep our customers informed with the latest information regarding products on order. Should you wish to cancel at any point in the order process (with the exception of Upholstery and Custom Orders), Made Goods will apply any monies or deposits on that order as a store credit on account. This credit can be used toward any future purchase at your request. Any other refund is at the discretion of Made Goods management.

If the return is a shipping error on our part, or the result of a manufacturing defect, we will replace the item at no additional cost to you.
See more details on RETURNING DAMAGED ITEMS.
---
PRODUCT INFORMATION
CAN YOU TELL ME ABOUT YOUR PRODUCTS?
Quality Time Spent
In a world of disposable everything, where trends come and go in a flash, Made Goods stands apart. We take time gathering inspiration from the world around us, then apply the craft and skill necessary to get every detail just right. This is what elevates products into pieces made to last and what makes Made Goods unique.
Superior Materials
We use expressive shells, long strand rattans, richly tanned leathers, individually cast and crafted faux finishes, hand-formed ceramic, glass, and finely finished metals.
Product Integrity

It starts with workshop innovation guided by customer feedback. Through multiple rounds of sampling we refine proportions, exact material placement and achieve optimum coloration. Every product is then field tested for up to a year before being offered.
Artisan Relationships

Each Made Goods item is uniquely designed with a partner workshop. This allows us to incorporate expertise in time-honored techniques including hand laying, hand finishing, weaving, mouth glassblowing and hand glazing. Our partnerships with craftsmen are more like friendships, some of which go back more than 20 years.
Fully Constructed

We don't offer "knock-down" pieces because we don't cut corners. The last thing we want is for you to spend hours on assembly or dealing with wobbles. That isn't quality.
Discerning Details
Our mirrors boast thick, finished inner and outer profiles. Drawer shapes, leg shapes, pattern placement, and stretchers are impeccably integrated into the overall design. Handwoven pieces feature tight weaves and delicate pattern changes created by skilled artisans. Drawers integrate manufactured bottom mount glides and finished interiors for lasting quality. All free-floating pieces have fully finished backs.
Real Beauty

Our images don't lie. While lighting and background color add appeal, we don't digitally edit defects out. Our images are beautiful because the pieces are even more so. Variation in handmade products is a celebrated highlight of our process.
Note

While we strive to present the most accurate portrayal of all Made Goods products, please note that there will be differences in color and/or finish between any representation of the products (printed and online) and their actual appearance. This is due to several factors. The natural materials and handcrafting involved in creating our one-of-a-kind collection means that we are selecting one item for photography. The process of photographing our collections and printing or presenting the images inherently causes variation due to lighting, the color of the wall, the type of paper, or the calibration of your screen.
STURDY ACT
Effective September 1, 2023, US furniture manufacturers are required to ensure that all clothing storage units pass a series of tipping tests to be appropriate for sale, in compliance with the Sturdy Act. Manufacturers must also provide safety security labeling and anti-tipping installation kits.
All of our clothing storage units manufactured after September 1, 2023 are compliant while those manufactured before September 1, 2023 have been exempted.
CAN I PURCHASE A SAMPLE SWATCH?
Over 350 finish swatches are available for purchase including most furniture and mirror finishes. Individual swatches are stocked and available for $5 each, plus shipping. Sample kits of our most popular finishes are also available. Please see our comprehensive Material Guide for available materials or shop our PURCHASABLE SWATCHES category online.
We are pleased to offer complimentary swatches to select partners. Please contact your sales representative or account manager to learn more.
Note: Swatches are representative samples only. Due to the natural materials used, variations in dye lots/shell/stone/bone/wood, etc. are to be expected.
DO YOU OFFER CUSTOMIZATION?
Every home has a unique character that makes it special, but can also make it challenging to find the right pieces. We are pleased to offer customization of most of our furniture, mirrors and chandeliers. Our innovative workshop model allows us to offer alternative sizes and, in many cases, finishes to meet your customers' needs. Whether you are looking to make a piece shorter, taller, wider, deeper, or a different color, let us work with our craftsmen to create it for you. Contact your sales representative or account manager to get started. Private label production options and full custom production are available. We will never reproduce items from other vendors.
Note: There is no minimum order amount for custom pieces. Estimated lead time of production starts at 18 weeks following approval of quote and shop drawing.
HOW DO INTERCHANGEABLE PRODUCTS WORK?
We offer a large range of customizable products. Customers can choose from various materials and finishes to fit their design needs.
From dining tables to consoles to accent tables, build the perfect piece by mixing and matching our top options in handcrafted finishes with our distinctive base designs. We offer an ever-expanding collection of beds, where the frame and headboard can be customized to create the ultimate sleep environment.
Our extensive seating options can be made to compliment any space with frame and upholstery options. Choose from over 30 fabrics and leathers, as well as 13 high-performance fabrics that is best suited for outdoor or high traffic areas. In stock upholstery seating have an estimated 6-8 week lead time and sofas/soffettes have an 8-10 week lead time. We are proud to say our interchangeable seating are upholstered in the USA using high-end upholstery. Customers can send in their own fabric.
SEE ALL OUR INTERCHANGEABLE OPTIONS
HOW DO I REQUEST A COPY OF THE CATALOG OR PRICE LIST?
Made Goods sells only to the trade. To receive a copy of our catalog or price list, you must have an established account with Made Goods. If you have an account and need replacement material, please contact us.

If you do not yet have an account with Made Goods, you can simply submit an ACCOUNT APPLICATION. Once approved (please allow us 48 hours to process your application), you will receive your account and login information in an email from your Made Goods account manager.

To expedite an application, please call us at 626-333-1177 or email info@madegoods.com for immediate service!
HOW MANY SEATS DO THE DINING TABLES ACCOMODATE?
The seating number for our dining tables vary depending on design and size. Our recommendation is based on 20"W dining chairs with the allowance of at least 2" between chairs.
SEATING CAPACITY FOR DINING TABLES
HOW DO I INSTALL MY CHANDELIER?
HOW DO I INSTALL MY VANITY?
---
CARE GUIDES & WARRANTIES
HOW DO I CARE FOR MY PRODUCT?
We are proud of the quality materials we use and encourage you to care for them properly. Like an antique or family heirloom, our furniture is handmade, and therefore subject to slight variations; and like any beloved piece that stands the test of time, following the advice here will help ensure a very long life for your piece.
View FURNITURE CARE GUIDE
View RUG CARE GUIDE
DO YOU OFFER A PRODUCT WARRANTY?
We offer limited product warranty depending on the type of product purchased.
Indoor Product Warranty
Ardmore Home Design (DBA Made Goods) warrants its product to be free from manufacturing defects to theoriginal purchaser for one (1) year time from invoice date. Proper maintenance, including routine cleaning, replacement of worn glides, and removal of products in high winds or severe climates (heat or cold) is the sole responsibility of the owner and is required to keep this warranty.
The warranty does not apply to damage resulting from improper maintenance, misuse, negligence, normal wear, abuse, accident, alteration or tampering. Accessories, cushions, fabrics, pillows, COM fabrics, glass and metal are not covered by this warranty. Repair or modification by anyone other than Made Goods or an approved agent, voids the warranty. Made Goods makes no additional warranty, either expressed or implied, written or oral, regarding any warranty of merchantability, title, or fitness for a particular purpose. Additional exceptions may apply.
Outdoor Product Warranty
3 YEAR WARRANTY covers:
Concrete
Stoneware
Ceramic
High Performance Fabrics
Galvanized Metal
Woven Frames
Teak
1 YEAR WARRANTY covers:
Decor
Cushions
Rugs
All other items and materials not covered by 3-year warranty
Additional information on warranty coverage:
Coverage starts at the date of shipment from Made Goods facilities.
Reference our Product Care Guide for maintenance information on our most popular materials online.
Continuous maintenance and care are necessary to preserve the original color, texture and appearance.
Small cracks that occur naturally in teak and concrete are not covered.
Defects due to extreme climate conditions are not covered by warranty. Winter storage is required for most outdoor items. During inclement weather conditions (from freezing temperatures to extreme moisture), we recommend that the pieces be covered or stored in a covered/protected area.
Damage due to misuse is not covered (e.g., burn marks, stains, scratches, dents or chips).
---
RETAILING MADE GOODS PRODUCTS
CAN I SELL YOUR PRODUCTS ONLINE?
Made Goods is happy to allow our current retailers to sell the products they stock on their website. To protect our retail partners, we do not sell to online only retailers who do not stock products. Contact us to become an ecommerce partner, email info@madegoods.com.
---
PRESS FEATURES
HOW DO I FEATURE YOUR PRODUCT/COMPANY ON A PRINTED OR ONLINE PUBLICATION?
Made Goods looks forward to working with media partners. We have silhouette high-res images for all of our products and lifestyle images featuring select products. If you are interested in featuring Made Goods, please contact us at press@madegoods.com.
HOW DO I INTERACT WITH MADE GOODS ON SOCIAL MEDIA?
We are always excited to see how our customers use our products and when they highlight what they love about us. Whether through Instagram, Facebook, or Pinterest, get noticed by tagging us @madegoods or #madegoods.
If you have general questions about our products or your order, we encourage you to contact customer service directly to get the most accurate information with in a timely manner.
ADDITIONAL INFORMATION
Can't find the answers to your questions here? Send us an email at info@madegoods.com.
Thank you!
Thank you for visiting Made Goods. We are revamping our website and offering more online ordering capabilities to make your shopping experience even better. You are now able to set up an account that includes the ability to order online. To proceed, please reach out to collateral@madegoods.com requesting an account and provide an email address to use for login. You will receive a confirmation email within 48 hours confirming the new account setup.